I'm not sure why, but I love seeing how other people live. It must be the voyeuristic side of me.
I love when a window opens up onto other people's lives, bedrooms, and wardrobes.
To see what is kicking around, the wacky decorations, the shoes of my dreams in someone else's closet or a plethora of beauty products someone else's bathroom… it can be fascinating.
Kind of like watching the cat taking a bath by the windowsill as if no one can see.
I love it when my eyes get to wander, climbing up an enormous pile of books and slowly descending the stairs.
And I must admit, it's even more pleasant to do so when everything is arranged in perfect order (or otherwise empty, like an arts or home decoration magazine)!
The Selby's success may not be that surprising after all!
I had been toying with the idea for quite a while, but it was Julia's "In my Bag" article that finally inspired me to put together today's post.
So no outfit post today, but instead an insider's glance at what's in my bag. A look at what lies deep down inside, even in the most remote of corners.
Because a girl's bag is pretty mysterious… You never know what you're going to find: it's just like a house!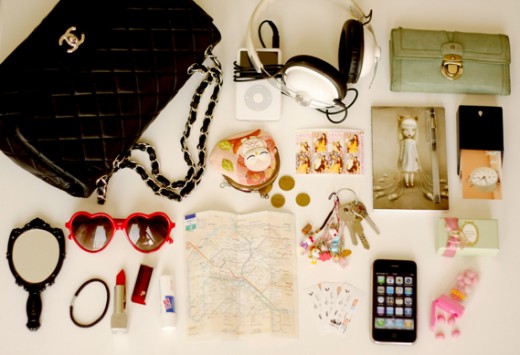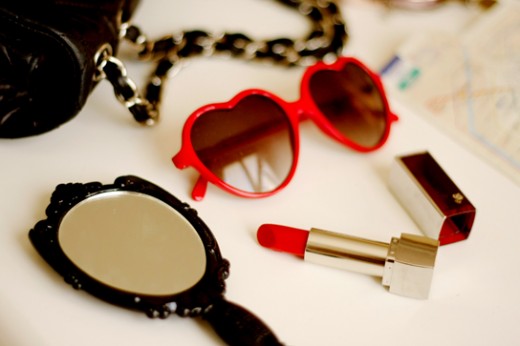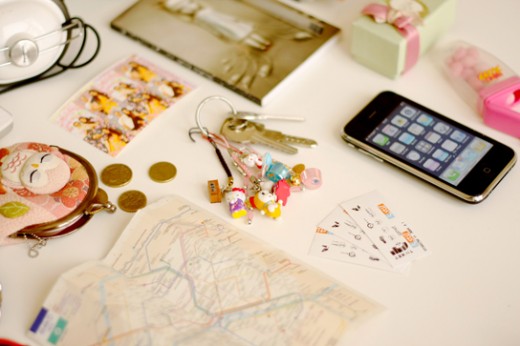 - Chanel bag
- Ipod and panasonic headphones (I need to have all of my music on me… My Iphone just isn't enough!)
- Topshop wallet
- Change purse from Japan and pulikula ( photos ) from Japan
- La marelle en papier notebook
- MOO business cards
- Anna Sui Mirror
- Heart shaped sunglasses from Ebay
- Lancôme lipstick (worn as blush) and Neutrogena lip balm (used for both for medical and cosmetic purposes)
- Paris metro map + tickets
- Gris Gris charm keychain from Japan
- Iphone
- Box of chocolates from Ladurée
- Multicoloured Japanese candy
källa
(allt är stulet härifrån, thecherryblossomgirl)